CPA Specializing in Accounting and Tax Services Named Council Member of AICPA
October 30, 2014
CONGRESS CHOOSING NOT TO EXTEND TAX PROVISIONS COULD HURT MILLIONS OF AMERICANS
November 18, 2014
2013 Tax Statistics
---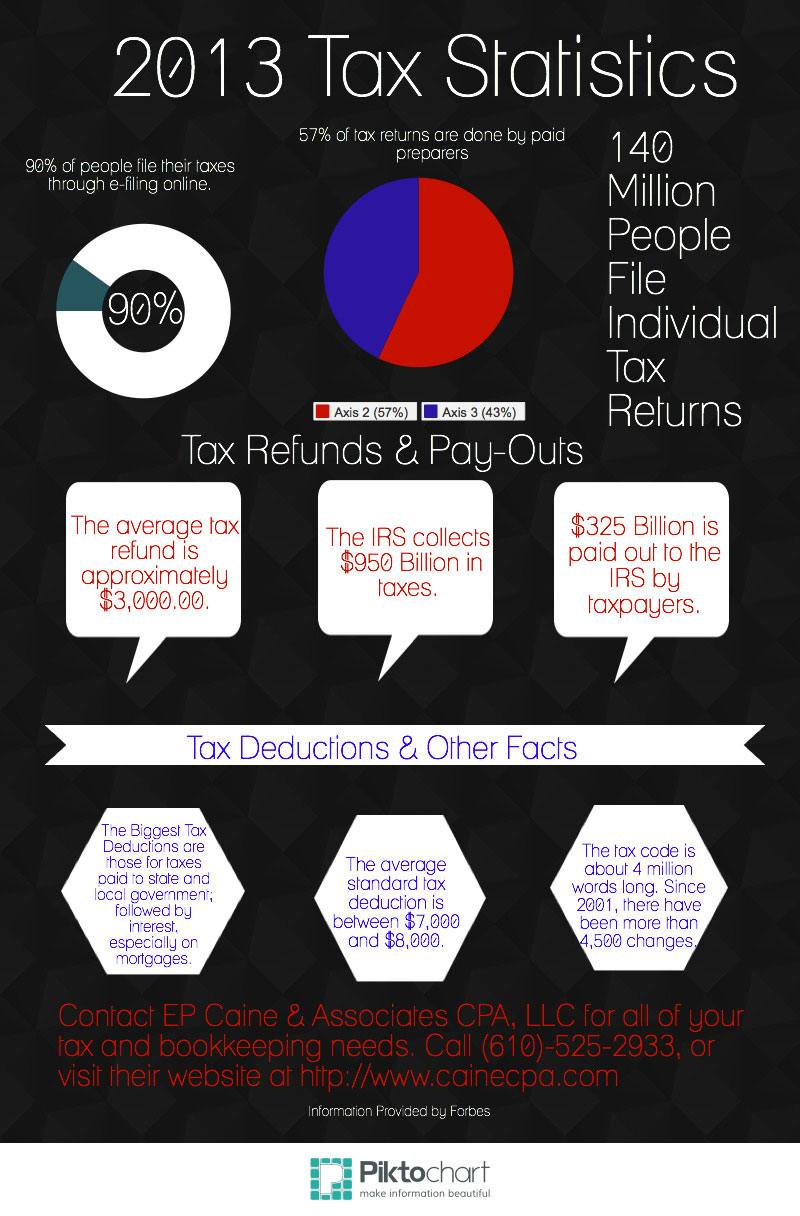 Specializing in tax and bookkeeping services and serving Wayne, Bryn Mawr and the entire Main Line, EP Caine & Associates CPA, LLC will prepare your taxes for the 2014 year in an affordable and efficient manner. We have a strong team of accounting professionals whom all have the same goal; providing expert solutions to individuals and businesses alike. Our firm is small enough so that you feel welcome and at-home when you are with us; we form a relationship with you as your trusted adviser.
With the 2014 tax season approaching, it is time to start your tax planning. We realize this can be a difficult task; one where we can help. The tax code is 4 million words long, and is frequently changing. Since 2001, there have been more than 4,500 changes. We are experts at staying on top of this ever-changing code, all designed to help you from paying more than you have to pay.
Last year, approximately 57 percent of people had their taxes professionally prepared. We want to prepare your taxes in order to maximize your refund. The average refund is around $3,000 and the average standard tax deduction is between $7,000 and $8,000. The biggest tax deductions are taxes paid to state and local governments, followed by mortgage interest. These are averages, and we understand that each situation is unique; your deductions and refund may be larger or smaller than these averages.
EP Caine & Associates CPA, LLC is the called-upon firm in Wayne, Bryn Mawr and the entire Main Line to help maximize these deductions, plus others, in order to minimize taxes paid. Contact us today by calling (610)-525-2933 or visit our website at cainecpa.com. You may also fill out our contact form here.